In todays article I will show in you detail how to market watch DFM and also how to read level 1 & 2 data. As a trader and investor in Dubai Stock Market we want to know the companies listed in Dubai Financial Market and what is the current price of a particular stock.
Is Live Market Data Free?
Lets make this very clear DFM Market Data is free for everyone all you have to do is register yourself on the website which I have explained in detail and if you have missed that video click here to watch it. Incase if you want to watch DFM market without signing up you can still watch the market but the data will be delayed by 15 mins.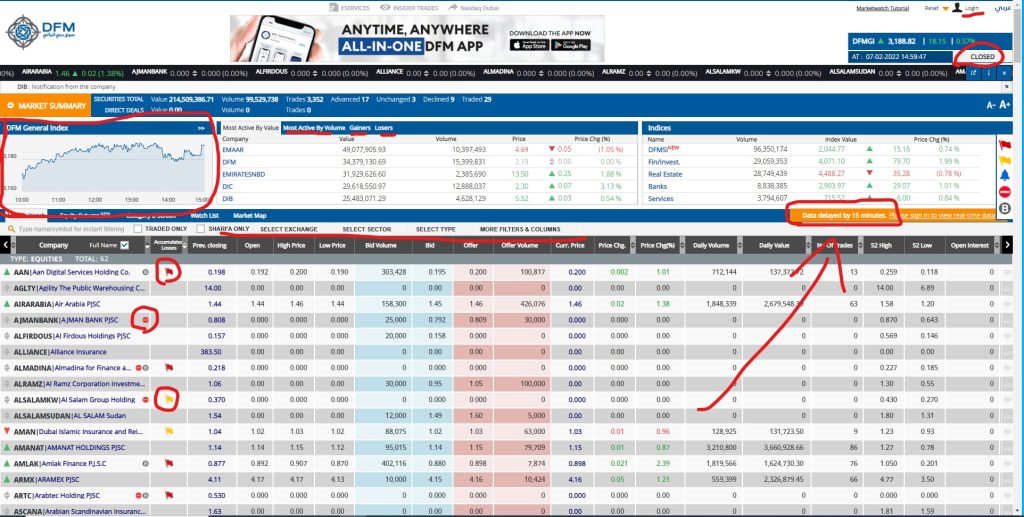 You can get many vital information just at a glance, first and very important information that you want to see is the status of the company, DFM have flagged the company as per their losses. 
This gives us a clear heads up about the company and we can have a better understanding about the company just at a glance. Incase if the company is suspended respective sign will be added next to the name of the company and the reason will be mentioned under the news section of the main page. Please take a note that all category B stocks are considered risky so before investing make sure you have done your due diligence properly. 
Level I data is something that you see after clicking the market watch link where you see all the companies listed in Dubai Stock Exchange with their opening price, bid, offer, previous closing, volume, no of trades and more.
Level II data is where you see in depth like number of buyer, total number of shares also here you will be able to see total supply and demand of a particular stock.
If you would like to see how the live market looks like on Dubai Financial Market watch the below video.
More data means more information which can help us take better decision about out trade. But remember just by looking at the live market and the data will not help you take the correction decision this is just small piece of the information required to make a decision you need to have complete information on how to trade in stock market and become profitable. Join my technical analysis course where I teach every thing in detail its 7 days complete course click here for details. 
If you have any questions regarding this article feel free to comment below and I shall get back.