Will Real Estate Sector Lift The Market ?
Real Estate is going through a tremendous growth as of now thanks to the world Expo 2020 Dubai. Mega projects have been launched by Emaar Properties last year and we saw crazy demand by local and international investors clearing showing that trust in the brand DUBAI and the developer Emaar. With positive fundamentals and strong financials I am confident that real estate will lift the Dubai Stock Exchange to the skies very soon. 
Emaar Share Price after hitting the resistance of 5.33 AED on November 15th 2021 is now trading at 4.74 AED as of February 7th 2022.
Emaar was in a bullish chart pattern – symmetrical triangle pattern that I had also explained on my youtube channel, unfortunately the pattern broke to the downside. If you missed that video click here.
It retested the resistance zone 4.90 and got rejected, for now its trading in a range.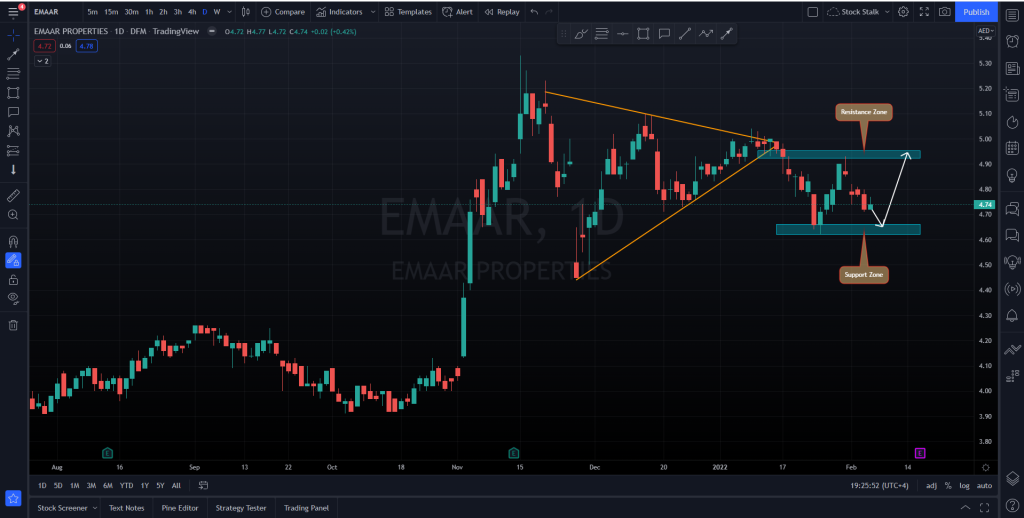 I think Emaar will come down to retest the support zone that is around 4.63 to 4.66 to make it a double bottom chart pattern. Immediate hurdle is at 4.90 but once this resistance is crossed we will witness more buying pressure and price may hit the resistance of 5.10 and 5.20 respectively. Emaar is a heavy weighted stock, we see index move along with it!  
Market index is as of now in a range as most of the big stocks are not moving, check out full details here 
Well for now its in a NO trading zone I want it to take a bounce from the support zone or clear the resistance with a decisive candle to take the trade. There should be no place for FOMO here as it can be a bull trap too. So lets wait for a proper setup at our levels and then trigger the trade. 
All the best for the coming week guys:)