Is It A Good Time To BUY?
Gulf Finance House – GFH is a listed company in Dubai Financial Market. After disclosing their financial results market did not react positively but at the same time the stock price did not fall. Below is the weekly chart of GFH its right at the support level. Also over all market index is very bullish click here to watch the video.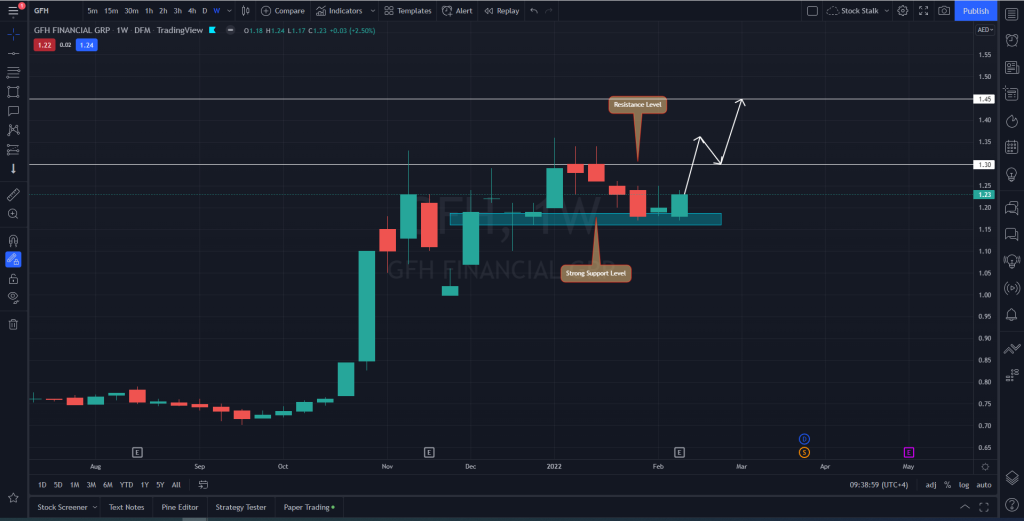 Strong support level is at  1.20 – 1.25 and we can see that market have taken good bounce from this level. Bullish engulfing candle is seen on a weekly chart giving us indication that bulls are now activated. The main question here is will it go up from here ? well my analysis say there are good chances for it to go higher from here.
If GFH can cross and close above the strong resistance of 1.25 many retail traders who are watching this stock will get attracted and start buying. As it is GFH is buying back it shares which is helping it clear the resistance levels. As we saw it was not able to cross the resistance of 1.20 – 1.23 thanks for GFH as its buying back the shares its crossing the resistance levels.
Once the strong resistance of 1.25 is crossed immediate resistance is 1.34 that should be your Target 1, next we have 1.45 that is a major resistance zone. Overall the trend is to the upside and its still intact. I am very bullish on GFH please do your own research before investing.
If you would like to learn how to read charts like a professional and make money click here.
All the best for coming week!