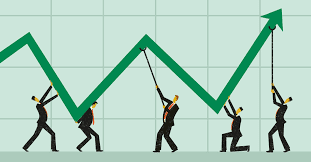 Stock market fluctuations are influenced by a wide range of factors, including economic, political, and psychological factors. Here are some key factors that can impact stock market movements:
Learn how to trade & start a passive income from the Top influencer in the UAE, click here for more details. 
1. Economic Indicators: Economic factors such as GDP growth, inflation rates, interest rates, employment data, consumer spending, and corporate earnings play a significant role in stock market fluctuations. Positive economic indicators often lead to increased investor confidence and bullish market sentiment.
2. Company Performance: The financial performance and prospects of individual companies can have a significant impact on their stock prices and, in turn, the broader market. Factors such as revenue growth, profitability, product innovation, management changes, and mergers and acquisitions can influence investor sentiment and drive stock price movements.
3. Monetary Policy: Decisions made by central banks regarding interest rates, money supply, and monetary policy have a profound impact on stock markets. Lower interest rates, for example, can stimulate borrowing and investment, leading to increased stock market activity.
4. Geopolitical Events: Political instability, conflicts, trade tensions, and policy changes can create uncertainty in the markets. Geopolitical events such as elections, regulatory decisions, trade agreements, and geopolitical conflicts can have both short-term and long-term effects on stock prices.
5. Investor Sentiment and Market Psychology: Market sentiment and investor psychology play a crucial role in stock market fluctuations. Investor emotions, such as fear, greed, optimism, and pessimism, can drive buying or selling pressure, leading to price movements that may not always align with fundamental factors.
6. Global Market Factors: Stock markets around the world are interconnected, and events in one market can impact others. International economic developments, currency exchange rates, commodity prices, and global financial trends can influence stock market movements.
7. Technological Advancements: Technological innovations and disruptions can have a significant impact on stock prices. The rise of new technologies, such as artificial intelligence, blockchain, and renewable energy, can create investment opportunities and shape market trends.
8. Regulatory Changes: Changes in regulations and policies affecting specific industries or sectors can impact stock prices. New laws, regulations, or government interventions can create uncertainty or alter the competitive landscape, influencing investor sentiment.
It's important to note that stock market fluctuations are complex and multifaceted, and the interplay of these factors can be highly dynamic. Traders and investors closely monitor these factors and their potential impact on stock market movements to make informed decisions.
This article is for education purpose only, please do your own research before investing in any financial markets. 
If you would like to learn how to trade stocks, crypto, forex or any other financial instruments please join my mentorship program. 
For regular updates on Dubai Financial Market & Abu Dhabi Securities Exchange click here.